14TPD waste oil to diesel refinery plant project in Ghana
In Africa / Date:07-28-2023
Under the guidance of DOING's professional project manager and engineer team, a 14TPD waste oil to diesel refinery plant project was installed successfully in Ghana in July, 2023.
Now the 14TPD waste oil to diesel refinery plant has been put into operation and produced high quality diesel through the distillation of waste oil, waste tire/plastic pyrolysis oil. Here is related waste oil to diesel refinery plant project pictures feedback by our Ghanaian customers.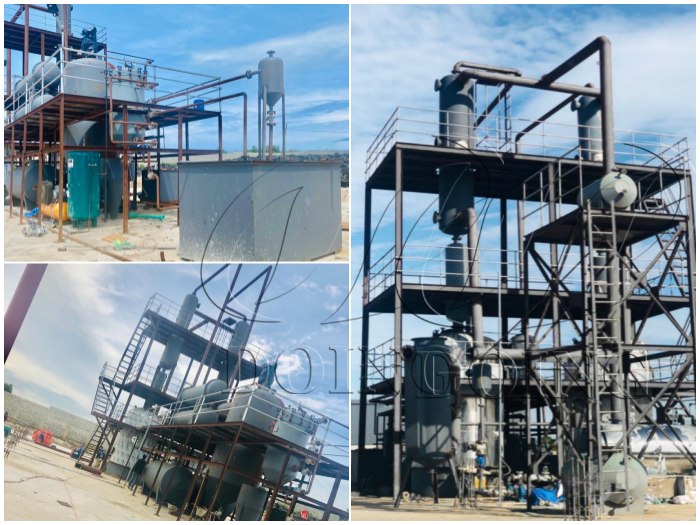 Waste oil to diesel refinery plant in Ghana project pictures

This Ghanaian customer has previously purchased 3 sets of pyrolysis plants from us, which has helped him make pyrolysis oil from cheap waste tires, waste plastic materials in local. The obtained pyrolysis oil is a good heating fuel for heavy industries like steel factories, cement factories, boilers, and heavy oil power plants. And the pyrolysis plant projects helped him make great profits.
And he learned that the pyrolysis oil can also be further refined by our waste oil refinery plant like other waste engine/motor/lube oil to make diesel. The diesel oil output may reach 85%, and the obtained diesel is applicable in heavy machinery like diesel generators, trucks, tractors, agricultural machinery, ships, boats, etc. So he wants to start a new profitable pyrolysis oil refining to diesel project.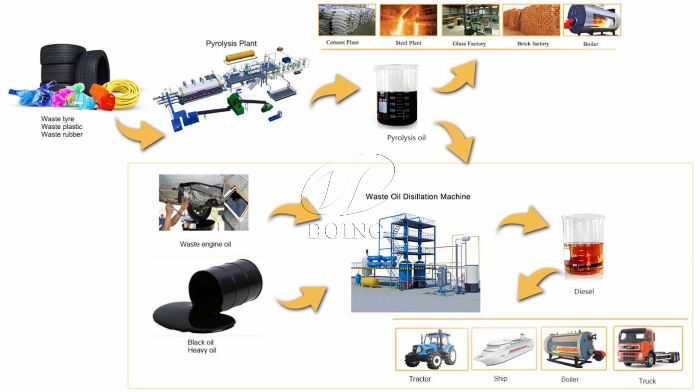 Waste tire plastic to diesel plant fianl products uses

In the later communication process, our project manager recommended a set of 14TPD waste oil refinery plant. It adopts the innovation solid catalysts technology, which has high automation degree and high processing efficiency. It can save investment for workers and time, and is easier handling for operators. This machine just meets our Ghanaian customers' requirements. Finally, the Ghanaian client passed this feasible solution.
Africa is one of our major markets. Until now, Henan Doing Company has helped set up many waste tire/plastic/waste oil to diesel project cases in Africa, including Ghana, Nigeria, South Africa, Egypt, Senegal, Cote d'Ivoire, Mali, Kenya, Burkina Faso, Ethiopia, Tunisia, Gabon, etc.,.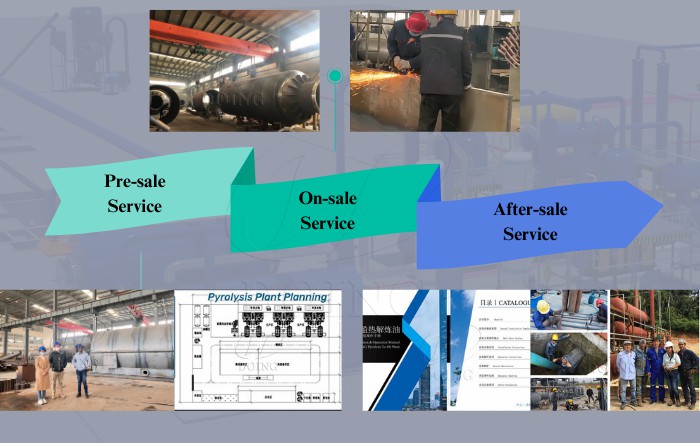 Waste to diesel pyrolysis refinery plant manufacturer services

We have gained rich experience in setting up waste to fuel oi/diesel pyrolysis refinery plants of different sizes. We can provide customized products and services according to your requirements. We are looking forward to being your partner!

Contact Us