With many market surveys, our r&d team developed newly designed DOING continuous waste plastic to oil machine. DOING continuous waste plastic to oil machine adopts high temperature pyrolysis technology to realize the process from waste plastic to oil, which is a high-temperature thermal decomposition of materials in the absence of oxygen, which can break chemical bonds in molecules, then turn macromolecular into smaller molecule. During the operation of DOING continuous waste plastic to oil machine, all operations are automated. The following are some features of DOING continuous waste plastic to oil machine.
The Workflow of DOING continuous waste plastic to oil machine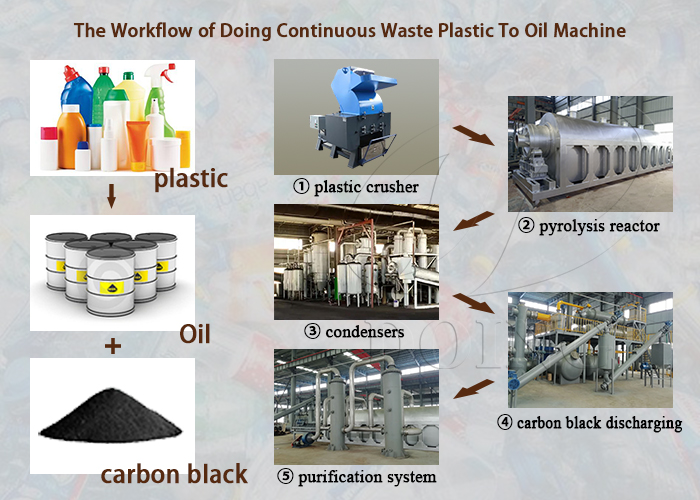 The workflow of DOING continuous waste plastic to oil machine
1. The plastic need shredding into pieces by plastic crusher, and then fed into the pyrolysis reactor through the sealed conveyor controlled by the fully automatic PLC system.
2. Heating the pyrolysis reactor. In general, the pyrolysis oil gas will generate when the pyrolysis reactor reach a certain temperature. Usually at 200~300℃, the most oil gas is produced.
3. After cooled through condensers and separated through oil-gas separator and oil-water separator, the oil gas is turned into liquid fuel oil and little combustible gas, The liquid fuel oil will be collected into the oil tanks directly. The combustible gas can be recycled after scrubbing and will be the main fuel to heat pyrolysis reactor.
4. The solid output—carbon black—will be automatically transferred to the carbon black production system to be collected in the container, or you can obtain the industrial grade carbon black after a serious of processes like milling etc. to get high-value chemical material.
5.The flue gas produced from combustion furnace will be purified by purification system to meet the environmental protection standard then discharged. So there is no secondary pollution to our environment.
The Unique advantages of DOING continuous waste plastic to oil machine
1. Fully automatic
DOING continuous waste plastic to oil machine is controled by the PLC system with automatic feeding and discharge system, which only need 1-2 worker for operating the PLC system, saving manpower for our customers. And Its automatic operation is more accurate to make fully pyrolysis of waste plastic, thus to get high oil output.
2. Continuous operation
The pyrolysis of DOING continuous waste plastic to oil machine adopts internal rotating method, which can achieve the real sense of continuous process.
3. Longer working life
The service life of DOING continuous waste plastic to oil machine will be extended to 6~8 years. During the continuous pyrolysis process, the reactor is heated by indirect hot air heating, which will not damage reactor so much, thus to keep long usage life of the reactor.
4. Safety
Our pyrolysis reactor adopts auto welding technology to guarantee the quality of welding seam and avoid cracking.
Then we use x-ray detection to ensure all the parts of the machine for welding seam. We also use vacuum system to prevent oil gas back to reactor causing accident. The machine is also equipped with safety devices, such as alarm for over temperature and pressure, auto pressure releasing system, extra gas recycling system and fire fighting device, etc. in case of danger.
5. Environment friendly
There is well sealed conveyor and every other junction part preventing gas leak, dust and bad smell. And dedusting system purifies the flue gas and dust from combustion furnace having no secondary pollution while processing waste plastic.
DOING continuous waste plastic to oil machine technical data
No.
Item
Specifications

1

Model

DY-C-10

DY-C-20

DY-C-30

DY-C-50

DY-C-60

DY-C-80

DY-C-100

2

Cpacity

10T/D

20T/D

30T/D

50T/D

60T/D

80T/D

100T/D

3

Power

35Kw

50Kw

65Kw

80Kw

90Kw

105Kw

120Kw

4

Working type

Continuous

5

Reactor deisgn

Mutiple reactors (The quantity and size depends on the raw material condition)

6

Rotating

Internal rotating

7

Cooling system

Recycled waster cooling

8

Reactor material

Q245R/Q345R boiler plate

9

Heating method

Indireact hot air heating

10

Heating fuel

Fuel oil/gas

11

Feedstock

Waste tire/plastic/rubber

12

Output

Fuel oil, carbon black
The Final Products of DOING continuous Waste Plastic To Oil Machine
The final products consists mainly of plastic pyrolysis oil, carbon black and combustible gas.
1. Plastic pyrolysis oil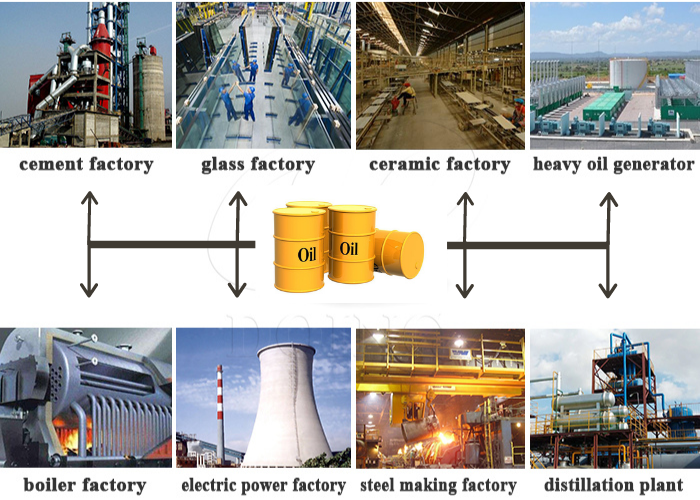 The application of plastic pyrolysis oil
The oil yield is high 90% when the waste plastic is pure and dry. The plastic pyrolysis oil can be directly sold, as fuel for industrial enterprises such as cement factory, glass factory, ceramic factory, electric power factory, steel making factory, boiler factory or for heavy oil generators; It can also be refined by pyrolysis oil distillation machine to get diesel fuel with higher economic value.
2. Carbon black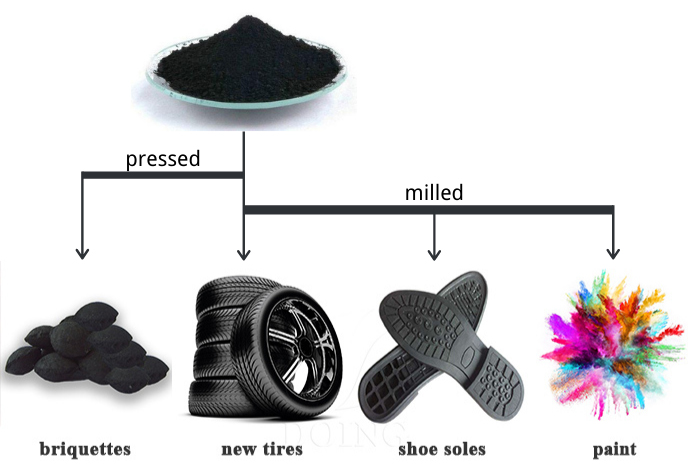 The application of carbon black
It can be directly sold, or made into briquettes, used for heating and burning, or milled into powder, widely used in new tires, shoe soles, or paint.
3. Combustible gas
It can be recycled to the combustion furnace to heat the pyrolysis reactor to save fuel such as coal, wood, natural gas, etc. for customers.
The Brief Introduction of Waste Plastic To Oil Industry
Many customers asked whether the waste plastic to oil machine is feasible. The answer is definitely "Yes", what's more, DOING continuous waste plastic to oil machine has a very good prospect.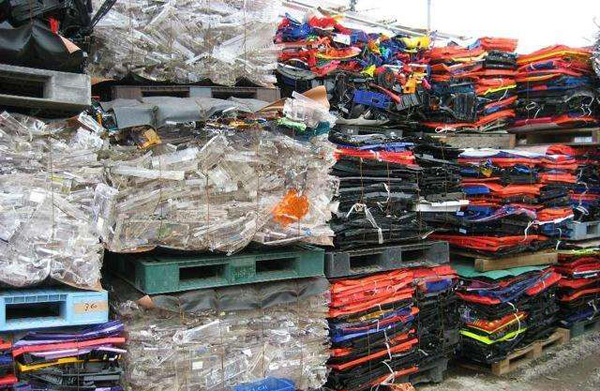 Waste plastic
It is said that the world generates 320 million metric tons of waste plastic each year. Even in a "best-case" scenario, an 80 percent reduction in plastic pollution by 2040, it is estimated that 710 million metric tons of plastic will still be polluting the environment by then. So the recycling of waste plastics is highly valued by various countries. DOING continuous waste plastic to oil machine is a good solution to this problem. It converts plastic into renewable energy, from which good ecological benefits can be obtained. And the whole process is safe and environmentally friendly. Why not join it?
DOING company has engaged in waste plastic to oil machines for more than ten years. Our DOING company is a manufacturer that integrates R&D, design, manufacturing, marketing, installation, commissioning and after-sales service. Our newly designed continuous waste plastic to oil machine is safe, environmentally friendly, highly efficient and highly productive. Considering that we also provide perfect after-sales service, you can rest assured when you buy our products.
We DOING company has more than 10 years of experience in the waste-to-energy industry and has successfully launched projects in more than 60 countries. If you have any questions about the pyrolysis industry, please feel free to contact us. Our professional project managers will answer your questions.

Contact Us