Home
  >  
Project Case
  >  
In Asia
>
DOING Brand 50TPD fully continuous tire pyrolysis equipment installed in India
DOING Brand 50TPD fully continuous tire pyrolysis equipment installed in India
In Asia / Date:09-21-2023
In August 2023, Henan Doing Company, a leading manufacturer and supplier of waste pyrolysis equipment, completed the installation of a new technology 50TPD fully continuous tire pyrolysis equipment in India. This pyrolysis project can help our Indian client make great economic and environmental benefits from waste tire recycling.
Our Indian client, who operates a prominent solid waste recycling company, sought to explore the tire pyrolysis project as part of their expanding business operations. When selecting the pyrolysis plant manufacturers, the key considerations for the client included the fully continuous tire pyrolysis equipment's process flow, technological maturity, existing operational projects, and cost-effectiveness.
Henan Doing Company's tire pyrolysis equipment was the ideal choice for the client due to its proven track record of successful installations and operational expertise. With multiple installation and operational sites, we DOING company demonstrated its technical prowess in tire pyrolysis.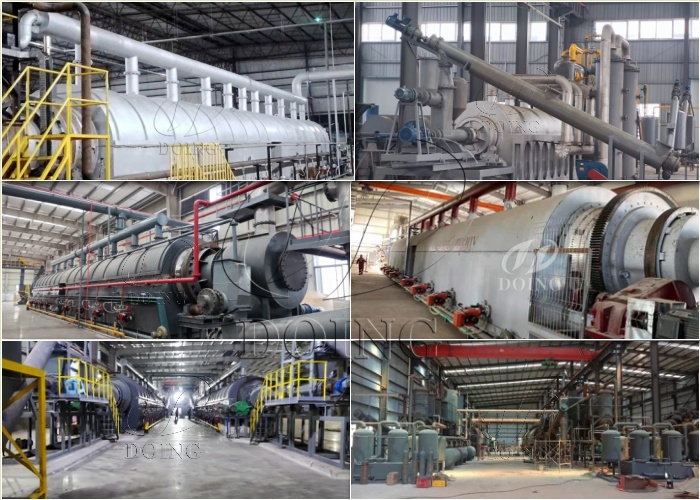 Fully continuous tire pyrolysis equipment project cases pictures

DOING Brand 50TPD fully continuous tire pyrolysis equipment offered employs an innovative continuous process that converts waste tires into valuable resources, such as fuel oil, carbon black, and steel wire. Different with batch type tire pyrolysis equipment, it can work 24 hours and keep feeding and discharging. From material selection to fabrication of our PLC control system, waste tire pyrolysis reactor, our patented oil gas extracting system, environmental gas purification system, we Henan Doing Company all have strict quality control.
To showcase the equipment's performance, the client and our sales manager had a live video to see an operational continuous pyrolysis equipment running site installed by DOING Company, establishing confidence in the technology's capabilities.
Moreover, the client highly appreciated the cost-effectiveness of Henan Doing Company's equipment. With its efficient design and advanced automation, the equipment offers excellent energy efficiency and low operating costs. This aspect ensured a competitive edge in terms of return on investment for the client's tire pyrolysis project.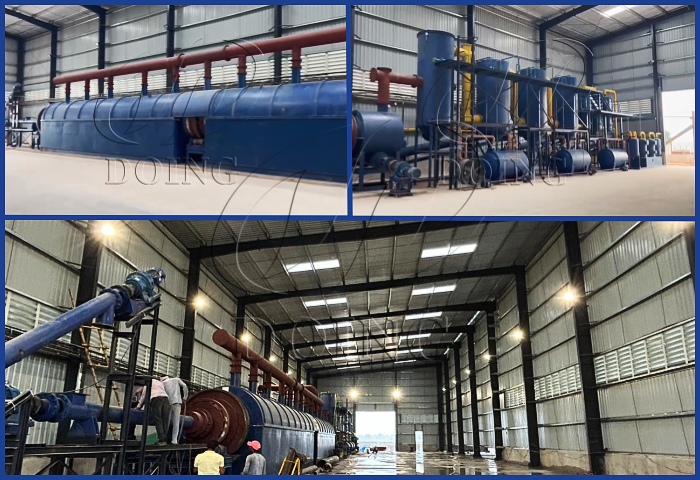 Fully continuous tire pyrolysis equipment installed in India

With the successful installation of the 50TPD continuous tire pyrolysis equipment in India, Henan Doing Company solidifies its position as a trusted partner in the waste recycling pyrolysis industry. We are dedicated to delivering reliable and technologically advanced solutions and continue to make a positive impact on the global push for sustainable waste tire management practices. If you want to engage in related waste tire pyrolysis into fuel oil business, please contact us.

Contact Us