Home
  >  
Project Case
  >  
In America
>
Waste pyrolysis and distillation plant projects installed by DOING in Mexico
Waste pyrolysis and distillation plant projects installed by DOING in Mexico
In America / Date:12-03-2021
Latin America is one of DOING's important markets. Every country has dozens of equipment installed, and Mexico has the most equipment installed. We have installed equipment in most cities, such as Hermosillo, La Paz, Monterrey, Tijuana, Morelia, Guadalajara , Victoria de Durango, Nuevo Leon and so on.
1. What are the pyrolysis plant and distillation plant project cases that Henan Doing Company has done in Mexico?
Here let me briefly introduce to you our equipment Mexican and the local market situation, so that you can have a deeper understanding.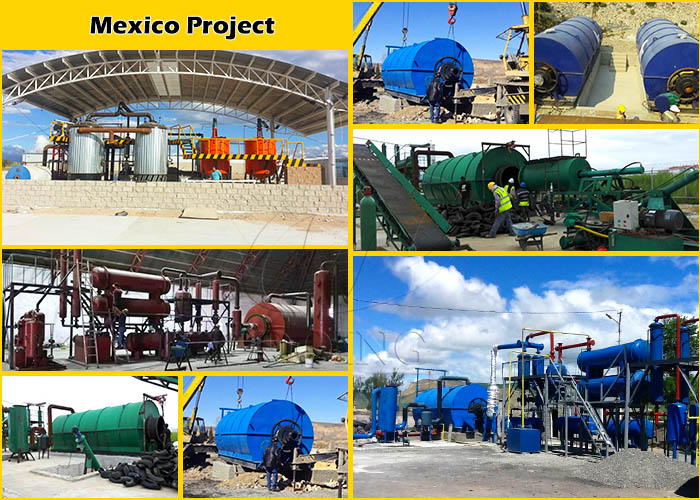 DOING's pyrolysis and distillation plant project cases in Mexico
▶ Projetc 1: 10 sets of waste tires pyrolysis equipment in La Paz, Mexico
In 2014, we installed 10 sets of pyrolysis equipment in La Paz. The source of the customer's raw materials is the tires from the city's tire landfill. He signed an agreement with the government and has the right to use the tire landfill for 40 years.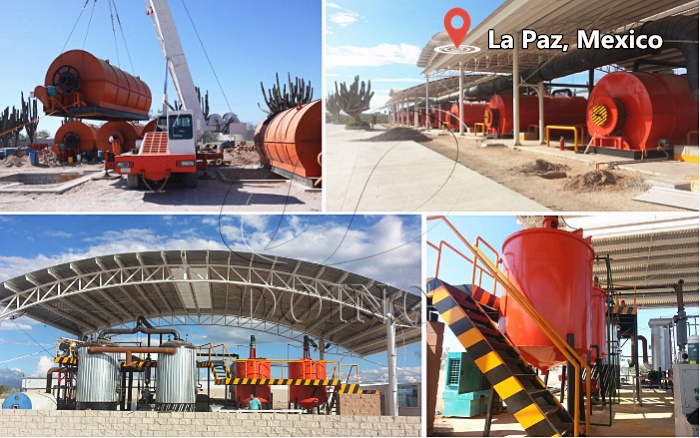 10 sets of pyrolysis equipment in La Paz
▶ Project 2: 6 sets of pyrolysis equipment in Morelia, Mexico
After comparing multiple suppliers, the Morelia customer finally bought 6 sets of pyrolysis equipment from our company.

6 sets of pyrolysis equipment in Morelia
▶ Project 3: 1 set waste oil distillation equipment in Monterey, Mexico
Monterey's customers are in related industries and are familiar with what kind of waste oil distillation equipment is of high quality. When he bought our equipment, he even completed the equipment installation independently.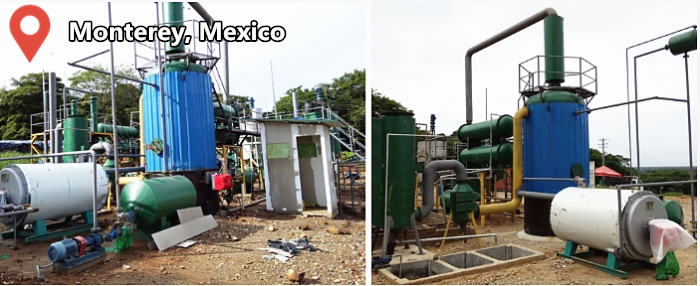 1 set waste oil distillation equipment in Monterey
▶ Project 4: 4 sets of pyrolysis equipment and 1 set of distillation equipment in Guadalajara, Mexico
Guadalajara customer have done a particularly thorough investigation and research on the local market, and believe that this business is particularly profitable.After have a factory visiting to see our equipment prototypes, he directly paid us the deposit to purchase equipment.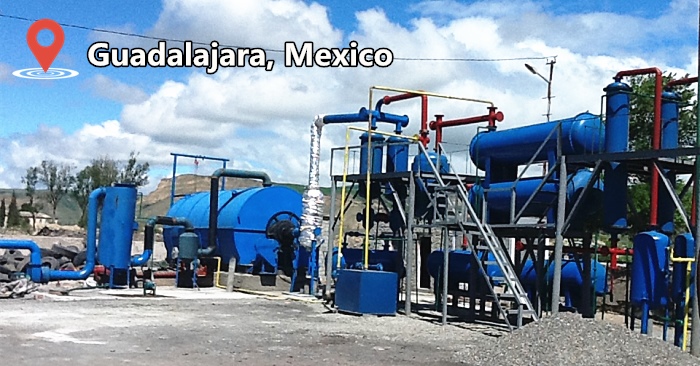 4 sets of pyrolysis equipment and 1 set of distillation equipment in Guadalajara
There are many successful cases of Waste pyrolysis and distillation plant projects, I won't introduce them one by one here. If you want to know more, you can contact our salesman for details.
2. What are the unique advantages to develop pyrolysis and distillation plant in Mexico?
There are so many people invest in waste tire, waste plastics pyrolysis plants and waste oil distillation plants in Mexico, because Mexico has some unique advantages.
①Advantage 1: Abundant raw materials
There are a lot of waste tire and plastic and waste oil resources in Mexico, these waste resources need to be solved urgently. And Mexico is close to the United States, so many waste resources can also be imported from the United States.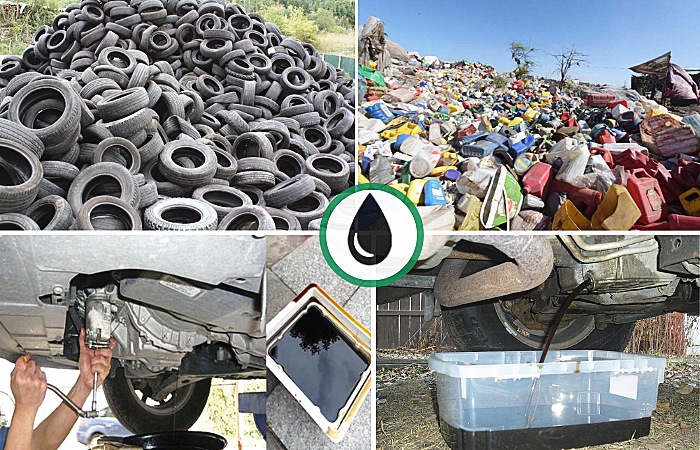 Waste tire, waste plastic and used engine oil
②Advantage 2:Broad sales market
Mexico has a complete range of local industries, petrochemicals, electric power, mining, metallurgy and manufacturing are relatively developed, so there is a wide range of oil use, and the oil sales market is not worried.
③Advantage 3:National policy support
Mexican government issued many policies that attach great importance to waste recycling and rubber utilization.
3.How profitable it is to develop pyrolysis and distillation plant in Mexico?
The purpose of all investors doing business is to earn more money, this is beyond doubt. Then how profitable are these businesses? Here let's take the 10T/D pyrolysis machine as example.
Profitability Analysis For 10t Waste Tyre Pyrolysis Machine
Cost
Waste Tyre
10t * 80 USD/t = 800 USD
Electricity Consumption
20 USD
Manpower
3 persons * 10 USD = 30 USD
Revenue
Fuel Oil
4t * 400 USD/t = 1600 USD
Carbon Black
3t * 30 USD/t = 90 USD
Steel Wires
1.5t * 200 USD/t = 300 USD
Profit
1140 USD
4.Why buy pyrolysis and distillation equipment from DOING?
If you also want to invest in related businesses, please contact DOING company to purchase pyrolysis or distillation equipment. DOING company has the following equipment advantages and after-sales service advantages, which is beneficial to maximize your benefits.
①Pyrolysis and distillation equipment advantages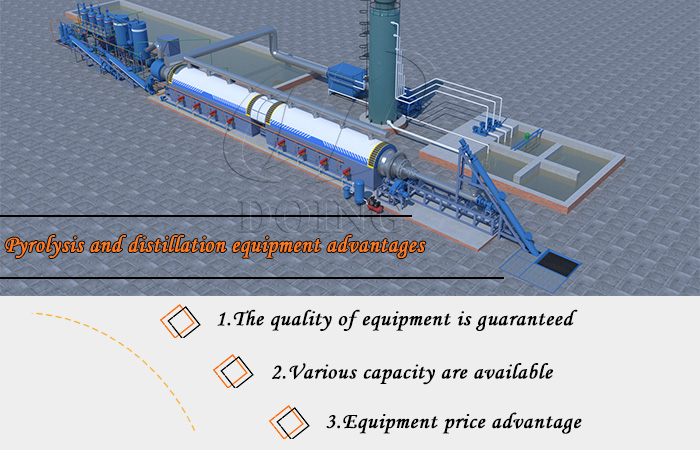 Waste plastic/tire pyrolysis plants distillation plant advantages in Mexico
● High quality: Our pyrolysis equipment's reactor uses an arc-shaped head. The arc-shaped head has the function of buffering pressure, which can ensure the long service life of equipment. And it uses a shell tube condensing system, shell tube condensing system can ensure the cooling effect, improve the oil output rate and oil quality.
● Various types: DOING has different scales and different automation types pyrolysis or distillation equipment to choose from, which can meet the needs of different customers. All equipment is customized through our independent factory to ensure the equipment quality while reducing the customer's investment cost.
②After-sales service advantages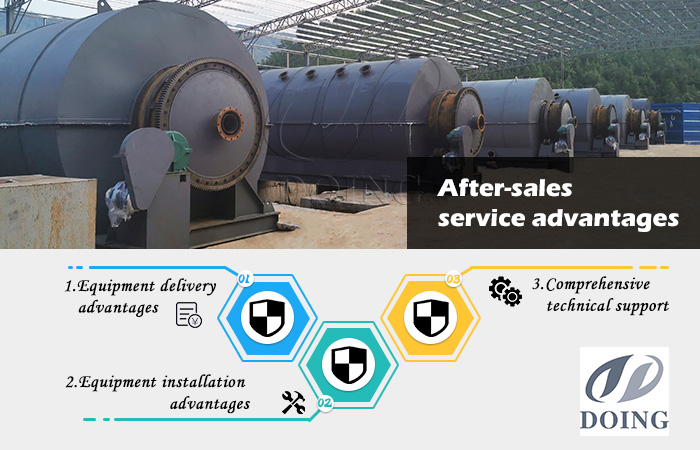 After-sales service advantages of pyrolysis equipment
● Equipment delivery: DOING will pack all the small spare parts with wooden cases and attach the spare parts list to every wooden case for customer checking when receive the equipment. We also could help our customer to book the ship if customer don't have suitable agent for shipping, we have long term cooperation forwarder who can find the cheapest ship for our customers. And they are familiar with loading our equipment, which is beneficial to ensure the safety of equipment.
● Equipment installation and warranty: We have many experienced overseas installation engineers. When the equipment arrives in the customer's country, we can send engineers to install, debug and run the equipment, and train the customer's workers to operate and run the equipment. Moreover, we have a special Chinese and English version of the after-sales installation manual, which introduces the detailed steps of equipment operation and maintenance in detail. Workers can refer to this installation manual at any time when operating the equipment to avoid mistakes. We will also provide one year after-sales warranty service, and provide lifetime technical support for customers.
● Comprehensive technical support: DOING's engineer team can not only provide customers with technical plan drawings, on the other hand, it can also help customers survey the factory buildings and design layout drawings, equipment basic condition diagram, etc.

5.What's the business scope of Doing Group? What products can Doing Company provide?
Henan Doing Environmental Protection Technology Co., Ltd is a comprehensive environmental equipment manufacturer integrating technological design, research and development, machine production, sales and after-sales service in one.
Our main business:
● Batch type waste tire/plastic/rubber pyrolysis plant;
● Fully continuous waste tire/plastic pyrolysis plant;
● Waste engine oil/plastic oil/oil sludge distillation plant;
● Pyrolysis plant auxiliary equipment;
Please don't hesitate to send enquiry to us if you have interests in developing waste pyrolysis and distillation business! Free quotations for you!

Contact Us