Home
  >  
Project Case
  >  
In America
>
50 TPD fully continuous pyrolysis plant project installed in Brazil
50 TPD fully continuous pyrolysis plant project installed in Brazil
In America / Date:03-25-2023
In March 2023, another large-scale environmental waste recycling pyrolysis plant project was successfully installed under the instruction of DOING Company. The fully continuous pyrolysis plant project is located in Brazil, which mainly aims to recycle waste tires and plastics into fuel oil, carbon black, syn-gas, etc.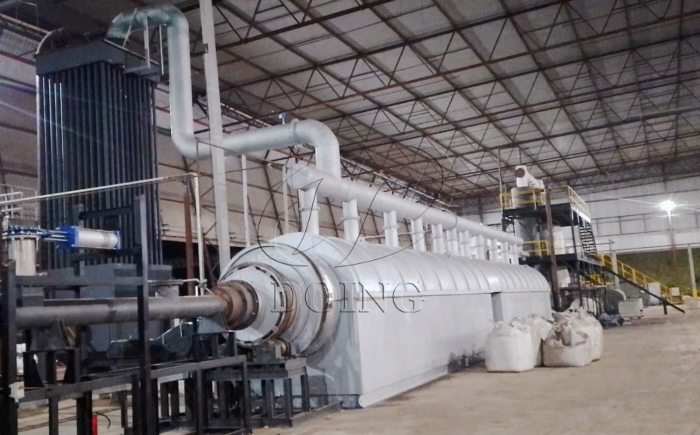 Fully continuous pyrolysis plant installed in Brazil

Machine Configurations
This set of 50TPD fully continuous pyrolysis plant has the higher configurations, and it is equipped with the fast heating system, dedusting system, desulfurization tower, etc. The pyrolysis plant configuration scheme has the advantages of high processing efficiency, big capacity, high automation degree and environmental protection, etc..
Project Construction Process
May 2021: The Brazilian customer contacted us and initially ordered a small scale 100KG pyrolysis plant for trial operation. At the same time, he can inspect DOING's equipment quality and operation by the way.

December 2021: After our small-scale pyrolysis plant arrived and operated successfully, the Brazilian customer was very satisfied with the performance of our equipment. So he decided to purchase a 50TPD fully continuous pyrolysis plant.

July 2022: After the Brazilian customer signed the contract, DOING immediately issued a production start notice to the factory and began to manufacture the pyrolysis plant. After strict quality inspection, all parts of the fully continuous pyrolysis plant were successfully loaded (about ten trucks) and shipped to the Brazilian port designated by the Brazilian customer. The following are some delivery pictures of pyrolysis plant:

Fully continuous pyrolysis plant delivered to Brazil


March 2023: The installation worker of 50TPD fully continuous pyrolysis plant was smoothly finished under the guidance of DOING engineer team. And it has successfully carried out the trial running and was officially put into operation.

Fully continuous pyrolysis plant project installed by DOING

From the pyrolysis plant selection to the machine installation, DOING Company has professional teams to offer constructive solutions. We will use our expertise to help you set up your own pyrolysis plant project smoothly and benefit more! Looking forward to reaching win-win cooperation with more customers.

Contact Us