Oil sludge is a by-product of the petroleum production process that is mixed with water, oil, and solid sediment, and is a hazardous waste that can be harmful to humans and the environment. Proper disposal of oil sludge not only protects the environment but also creates fuel oil, which is why environmentally friendly recycled sludge has received much attention in various countries. Oil sludge pyrolysis equipment, with its advantages of thorough disposal and high energy recovery rate, has attracted extensive attention from researchers around the world. And our DOING company has developed oil sludge pyrolysis equipment that can dispose of oil sludge into fuel oil, water and soil in an environmentally friendly manner.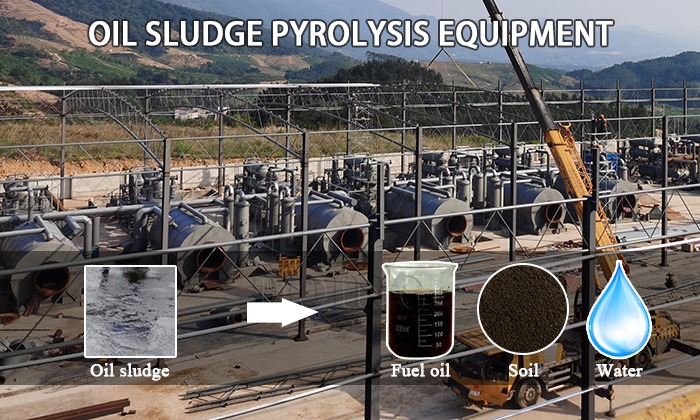 DOING oil sludge pyrolysis equipment
The process steps of oil sludge pyrolysis equipment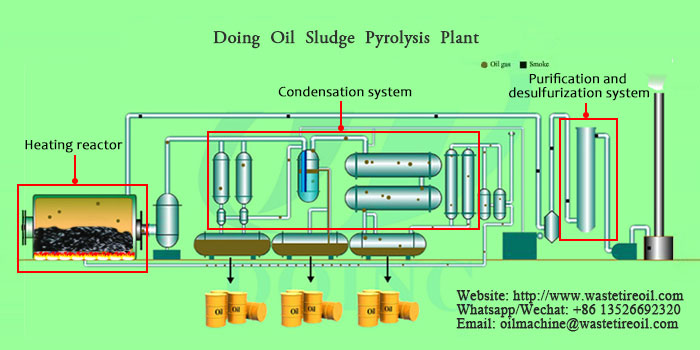 The work flow of oil sludge pyrolysis equipment
First, in the absence of oxygen, the oil sludge is loaded by a conveyor into a hydraulic feeder, which pushes the oil sludge into the pyrolysis reactor.
Second, the oil sludge is heated evenly driven by the power transmission device in the furnace.
Third, the heavy oil gas contained in the oil sludge are gradually extracted, and then the light oil gas are separated out from the dust and oil with low condensation point by the oil-gas separator, after which the oil and gas are condensed into liquid fuel oil, water and non-condensable gas by the condensation system.
Fourth, the non-condensable gas can be recovered to assist heating reactor in the furnace after the water are removed in the water-sealed tank.
Fifth, the liquid fuel oil is collected in the oil tank after passing through the oil-water separator.
Last, the flue gas generated in the furnace will be purified by a flue gas cleaning system, which has three steps to ensure compliance with environmental standards.
To meet customers' different requirements, we have designed four types of batch oil sludge pyrolysis equipment. And they are DY-1-6, DY-1-8, DY-1-10, DY-1-20. We can provide continuous oil sludge pyrolysis equipment as well. What's more, we can also customize the oil sludge pyrolysis equipment according to your situation. Here are the specific parameters for your reference.
Technical parameter of oil sludge pyrolysis equipment
 
Items
Contents
1
Equipment type
DY-1-6
DY-1-8
DY-1-10
2
Raw material
Waste tyre
Waste tyre
Waste tyre
3
Structural form
Horizontal rotation
Horizontal rotation
Horizontal rotation
4
24-hour Capacity
6 ton
8 ton
10 ton
5
Oil yield
2.7-3.3ton
3.6 -4.4ton
4.5 -5.5ton
6
Operating pressure
Normal
Normal
Normal
7
Material of pyrolysis Reactor
Q245R
Q245R
Q245R
8
Thickness of pyrolysis Reactor
16mm
16mm
16mm
9
Rotate speed of pyrolysis Reactor
0.4turn/minute
0.4turn/minute
0.4turn/minute
10
Total power
19KW
19KW
19KW
11
Mode of cooling
Water cooling
Water cooling
Water cooling
12
Cooling area of condenser
100sqm
100sqm
100sqm
13
Kind of transmission
Internal gear drive
Internal gear drive
Internal gear drive
14
Noise dB(A)
≤85
≤85
≤85
15
Size of Reactor(D×L)
2200×6000
2200×6600
2600×6600
16
Working form
Intermittent operation
Intermittent operation
Intermittent operation
17
Delivery time
20days
20days
20days
18
Weight
27T
30T
35T
If you are interested in oil sludge pyrolysis equipment, please feel free to give your inquiry in the form below. We will reply you in 24 hours.

Contact Us