Home
>
Product
>
Waste Tire/Plastic Pyrolysis Plant
> >
Fully continuous waste plastic pyrolysis plant
Fully continuous waste plastic pyrolysis plant
With the increasing number of waste plastics, our plastic pyrolysis plants have become more and more popular. To meet different customers' demands, we have manufactured our plants in two completely different models, batch plastic pyrolysis plant and fully continuous waste plastic pyrolysis plant. The fully continuous waste plastic pyrolysis plant is designed on the basis of batch plastic pyrolysis plant. Compared with batch system, the fully continuous plant have many unique features: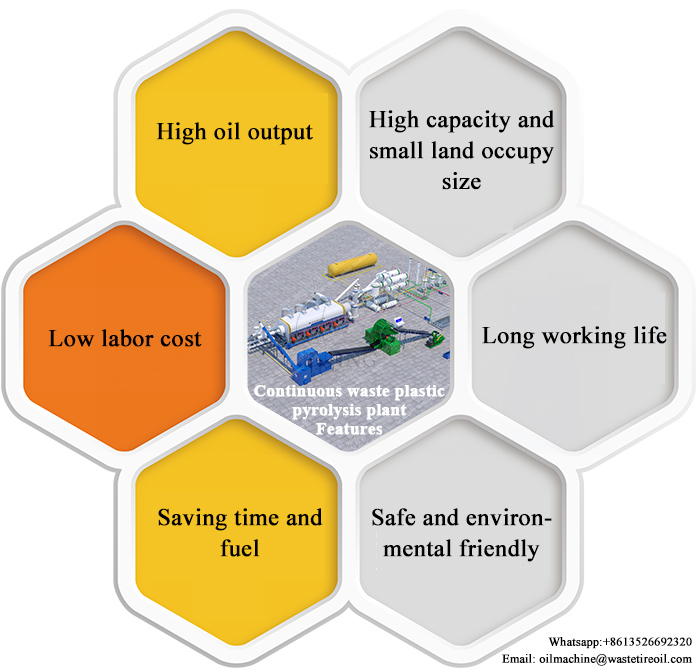 The advantages of continuous waste plastic pyrolysis plant
1. High capacity and small land occupy size
Our fully continuous waste plastics pyrolysis plant can process at least 10 tons waste plastics per day, up to 100T/D. And due to integrated design the plant has small land occupy size.
2. Fully pyrolysis for high oil output
The accurate calculation system is adopted to make fully pyrolysis of waste plastics, and three-stage tubular condensing system can ensure the cooling effect highest, thus to get high oil output.
3. Fully automatic with low labor cost
It is controlled by PLC system with automatic feeding and discharge system, which only need 1-2 worker for operating the PLC or computer is ok, saving labor cost.
4. Continuous operation for saving time and fuel
For external rotating system, you have to change the sealing material every three days, thus cannot achieve the real seal of continuous process. But our continuous waste plastics pyrolysis reactor adapts internal rotating method, which no need to worry about the sealing of the external rotating system. In this way, the fully continuous waste plastic pyrolysis plant can run for 24 hours a day without a stop and needn't to be cooled before the second batch, which not only saves time, but also saves fuels.
5. Long working life
During the continuous pyrolysis process, reactor is heated by indirect hot air heating, which will not damage reactor so much, thus to keep long usage life of the reactors.
6. Safe and environmental-friendly
DOING fully continuous waste plastic pyrolysis plant is equipped with safety device (alarm for over temperature and pressure, auto pressure releasing system, extra gas recycling system, fire fighting devices) and advanced dedusting system (water washing, water spray, ceramic ring adsorption and activated carbon adsorption), which will guarantee safety and no pollution in production.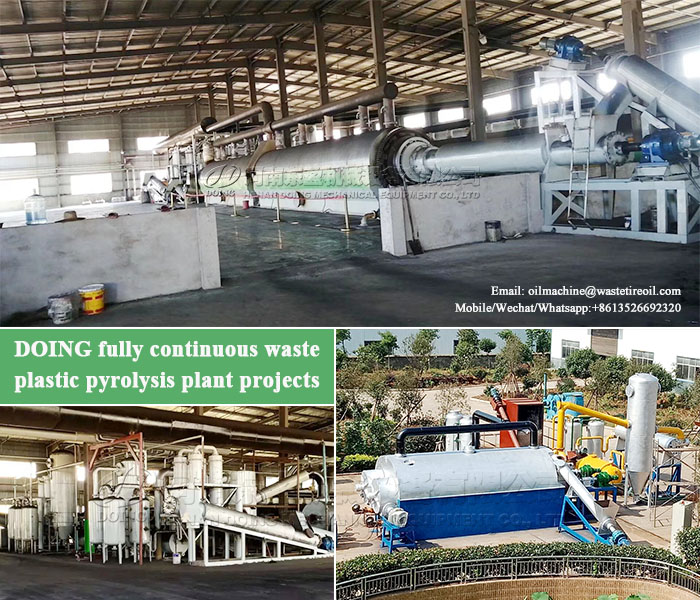 DOING fully continuous waste plastic pyrolysis plant projects in some countries
With the improvement of our technology and the growing of foreign trade business, DOING has sold our fully continuous waste plastic pyrolysis plant to Mexico, Nigeria, Egypt, Ukraine, Turkey, Macedonia, Romania, Albania, Serbia, Philippines, Malaysia, Indonesia, Colombia, Sri Lanka, Vietnam, Peru, Guatemala, Panama, Tunisia, Guinea etc. Our considerate service is highly appreciated by foreign governments and customers. DOING promises we have and always will serve customers with high quality equipment. If you have interest in dealing with waste plastics, please contact us right now!