Home
  >  
Project Case
  >  
In Asia
>
8 sets of oil sludge treatment pyrolysis plants were successfully installed in China
8 sets of oil sludge treatment pyrolysis plants were successfully installed in China
In Asia / Date:08-01-2023
In June, 2023, Henan Doing Company successfully helped Chinese customers complete the construction of an environmentally friendly oil sludge treatment pyrolysis project.
At present, Henan Doing's engineering team has completed installation guidance and worker training services. Eight sets of stainless steel oil sludge treatment pyrolysis plants were successfully installed and put into production in Shaanxi province of China.
China's Shaanxi Province is an oil gas rich area with abundant raw materials such as coal tar residue and oil sludge residue. Our China Shannxi customers chose oil sludge treatment pyrolysis plant to achieve environmental protection and resource recycling of waste oil sludge, and can also obtain fuel oil resources for heating uses.
When he first entered the oil sludge pyrolysis recycling industry, our Chinese customer did not have much experience in selecting oil sludge treatment pyrolysis plant, so he purchased it from other nearby manufacturers as a trial. As a result, the operation of the equipment was unsatisfactory. During the pyrolysis process of waste oil sludge, the phenomenon of coking and sticking to the pyrolysis reactor is serious. This time he had a need to expand production. Based on his previous project installation and operation experience, he carefully compared multiple pyrolysis plant manufacturers in order to select the oil sludge treatment pyrolysis plant that best met his needs.
He brought the oil sludge materials to DOING Factory for trial operation, and obtained good feedback on the pyrolysis effect. In the end, we achieved its customers achieved win-win cooperation.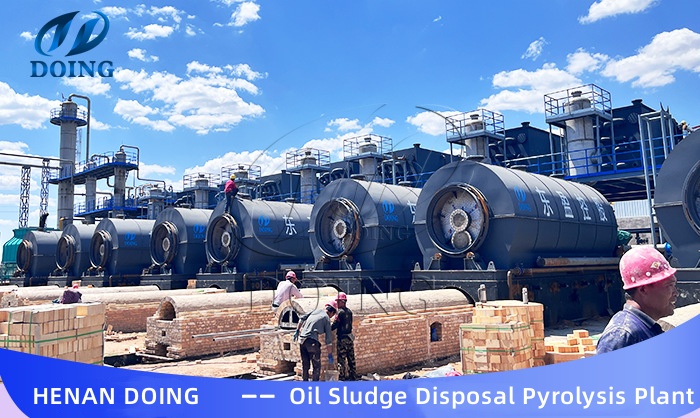 Oil sludge treatment pyrolysis plants installed in China
DOING waste oil sludge treatment pyrolysis plant is rigorously designed, and all devices are centered around the characteristics of the oil sludge and relative coal tar residue.
(1)First, the sludge pump is used to pump the sludge and oil residue into the reactor. This process is clean, hygienic, environmentally friendly and safe;
(2)The interior of the reactor is made of custom-made stainless steel, which effectively reduces the corrosiveness of waste oil sludge, prevents coking and sticking to pyrolysis reactor, and extends the life of the reactor;
(3)There are scrapers and scattering devices welded inside the pyrolysis plant reactor to ensure that the waste oil sludge is heated evenly, reduce adhesion to the inner wall, and ensure that the pyrolysis process is safer, more stable, and more efficient.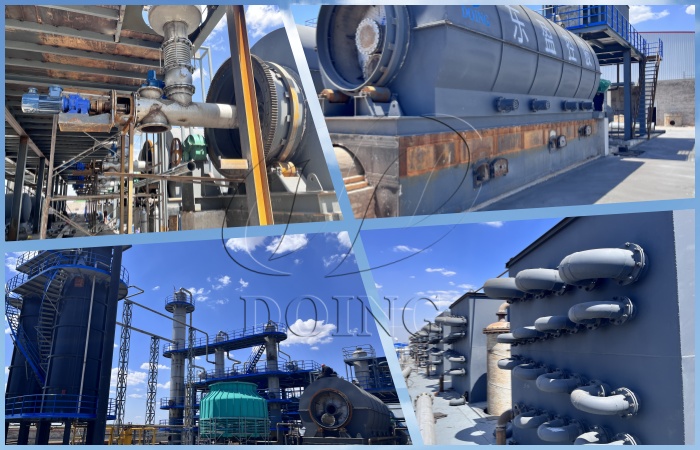 Oil sludge treatment pyrolysis plant project picture
Therefore, Henan Doing Company has become the preferred manufacturer of waste oil sludge treatment pyrolysis plants for many customers in China or abroad. More than ten years of technological precipitation, innovation and careful manufacturing have created high-quality pyrolysis plants. If you have any relevant purchasing needs, please feel free to consult.

Contact Us