As a professional pyrolysis system manufacturer, DOING has been focusing on production and export pyrolysis machines for more than 13 years, and the pyrolysis system machine has been exported to more than 90 countries around the world. Here are the advantages of the DOING pyrolysis system.
1. The DOING pyrolysis system is very inclusive, which can process and recycle a variety of raw materials, such as waste tires, plastics, rubber, sludge, aluminum plastic, etc, reducing solid waste pollution and creating renewable fuel oil energy. The pyrolysis technology of DOING pyrolysis system used to process different feedstocks is the same, but the specific pyrolysis system configuration may be slightly different.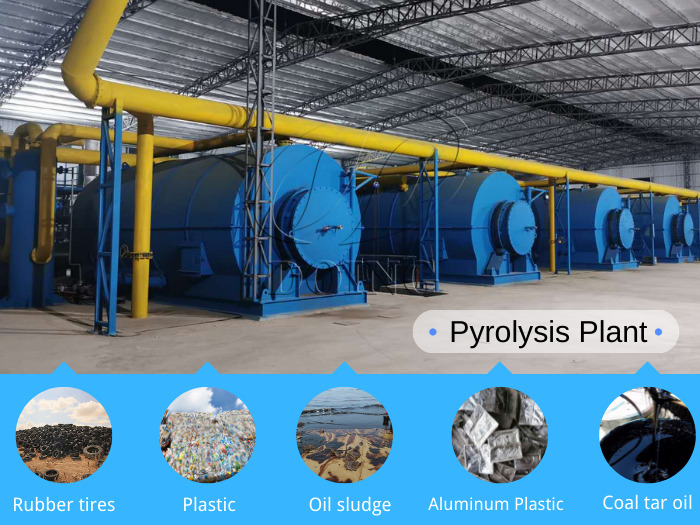 The raw material of DOING pyrolysis system

2. Saving fuel cost. When the pyrolysis reactor is first heated, it can be heated by fuel oil, gas, wood, coal etc. Once the oil-gas starts to come out, the non-condensable gas can be recycled to heat the pyrolysis reactor, and there is no need for extra fuel. It saves a lot of fuel.
3. High oil yield. DOING pyrolysis system adapts two sets of vertical condensers and 2 sets of horizontal condensers, which is the most professional cooling system of industries. Also, there is a set of oil-water separators and two sets of cooling towers. The whole cooling system definitely can cool down all of the oil-gas and ensures high oil yield. Besides that, we have patented devices to fully extract oil gas, further improving the oil yield and ensure safety.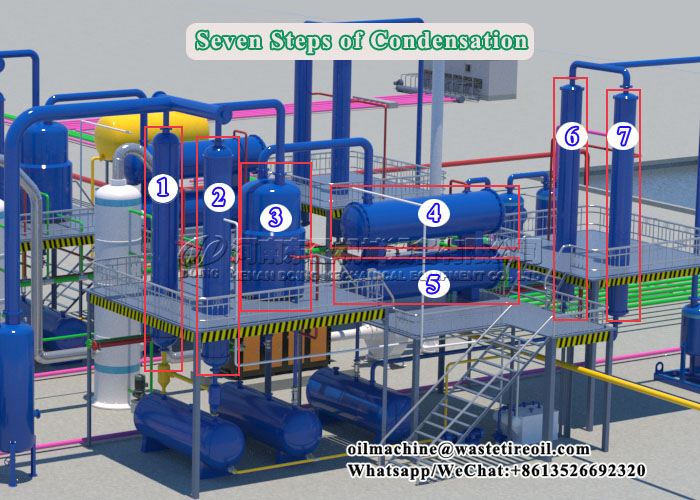 The cooling system of DOING pyrolysis system

4. Environmentally friendly. DOING pyrolysis system includes the free-pollution system(an environmental protection system), which can filter the dust and treat the flu gas. Making sure that the flu gas emission is friendly to the environment and meet the local requirements of each country.
The above is a brief overview of the advantages of DOING pyrolysis system. If you want to know more about our waste tyre plastic oil sludge pyrolysis system, please leave a message. Henan Doing Company specialized in environmental pyrolysis system manufacturer and integrating technological design, research and development, machine production, sales and after-sales service in one. And DOING's sales managers are very knowledgeable about the market and related environmental requirements of different countries. They can give you help and professional pyrolysis projects.

Contact Us